SdNOG-5
SdNOG-5 meeting hold from 30 September to 4 October 2018 in Khartoum at TPRA Tower. before the plenary we had a technical workshops from 30 Sep to 2 Oct. 2018, in the form of an instructor-led class, incorporating theoretical, and practical aspects from experts in the field.
SdNOG-5 Reports
Event Report
Financial Report
Special Thanks To Our Sponsors
We Would like to Thanks our wonderful sponsors! We extend our sincere appreciation to our sponsors, without whom our meeting would not be possible: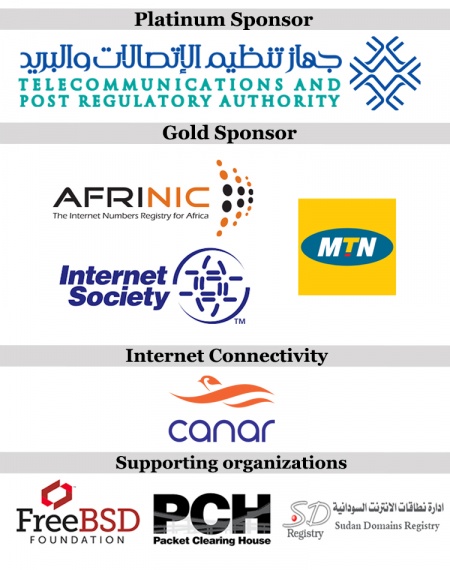 Sponsorship Opportunity
SdNOG forms an excellent platform for experts and people interested in networking and ICT to come together, to discuss related issues and suggest better ways for Internet governance and network management. Sponsoring SdNOG activities will give you the opportunity to meet the central people who effect the ICT sector, and will develop your social network and reveal potential opportunities. Moreover, it is a perfect opportunity to increase the visibility of your company, as a promoter of ICT in Sudan. In addition, helping such activities will enhance the knowledge level countrywide and thus improve quality of the employment market.
as we are now preparing to host our fifth meeting (SdNOG5) we are seeking all sort of sponsorships and/or partnership. if you interested please check our sponsorship benefits sheet
Meeting Layout
Meeting Agenda
Meeting's videos are now available on SdNOG YouTube channel:
https://www.youtube.com/channel/UC8sJS7QHTH0xJsMv0C_Z1TQ/videos
Time
Day 1 : Wednesday 3 October 2018
07:30 - 08:30
Registration
08:30 - 09:00
SdNOG Updates
SdNOG Team
09:00 - 09:30
Mail Security Guidelines
Hiba Alamin, NCTR
09:30 - 10:00
Browser Finger printing and its Damage to Privacy on the Internet
Dr.Bazara Imam, NCTR
10:00 - 10:30
Tea Break
10:30 - 11:00
SDNOG Opening and Welcome
11:00 - 11:30
The current situation and future of SIXP
Moumena Mohamed, SIXP
11:30 - 12:00
Panel: How to run IXP
Panel discussion
12:00 - 13:00
Lunch
13:00 - 13:30
Grid Computing
Khadiga Omer Mohammed, UofK
13:30 - 14:00
Evolution of Intelligent Network
Ahmed Abdelkareem, Zain
14:00 - 14:30
Scratch: The Next Generation + Scratch code
Dr.Hisham Ahmed, SUST
14:30 - 15:00
Ethical Hacking BoF
Ahmed Mukhtar
14:30 - 15:30
Tech Capsule (BoF by invitation)
Hiba Eltigani, sdnog
Time
Day 2: Thursday, 4 October 2018
07:30 - 08:30
Registration
08:30 - 09:00
IPv4 as a Service: Deployment models and their consequences
Sander Steffann
09:00 - 09:25
Low Power Wide Area Network and its Technologies
Esra Bashir Abbas, SUST
09:25 - 09:40
Lightning Talks: Systems Automation Philosophy
Khansaa Abdallah, Canar
09:40 - 09:55
Lightning Talks: IOT revolution in Sudan
Mohammed Elsir, Tirhal
10:00 - 10:30
Tea Break
10:30 - 11:00
Monitoring DNS misuse
Mohd E .Hafez, ISOC
11:00 - 11:30
Solving your DNS privacy issues with Quad9
Sara Alamin, PCH
11:30 - 12:00
Enabling DNS over TLS - as easy as 9.9.9.9
Gerry Jeffry
12:00 - 13:00
Lunch
13:00 - 13:30
AFRINIC Updates
Keessun Fokeerah, AFRINIC
13:30 - 14:00
RIPE-690: IPv6 prefix assignments for ISPs
Jan Zorz, ISOC
14:00 - 14:30
AFRINIC IRR
Keessun Fokeerah, AFRINIC
14:30 - 15:00
Blockchain & smart contracts
Waleed Hassan, MAMAW
15:00 - 15:05
Lightning Talks: Software Defined Networking and OpenFlow Protocol
Dr. Ahmed Aziz, ONF
15:05 - 15:10
Lightning Talks: FTTH-2
Ahmed Ortachi, Canar
15:10 - 15:20
Lightning Talks: Information Security Awareness and compliance + Slides
Amel Hamimy, UofK
15:20 - 15:35
Technical Report
NOC Team
15:35 - 16:00
Closing and open mic
--
SdNOG-5 Statistic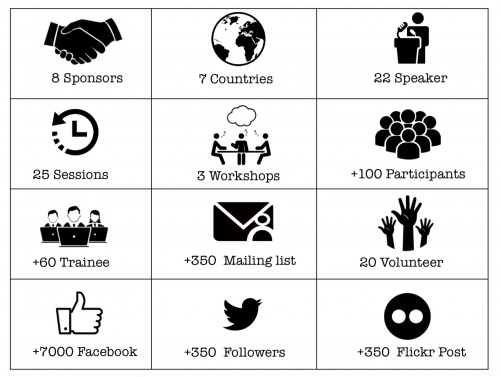 Program Committee
The purpose of this committee is to build and shape out the program agenda for the SdNOG-5 Meeting by seeking papers/presentations from the community and to review submitted papers.
Our PC team is:
Ahmed Elmokashfi
Duaa Mohamed.
Hisham Ibrahim. (PC-Chair)
Khansaa Abdallah
Mohamed El Bashir.
Nishal Goburdhan.
Philip Paeps.
Samir Abdullatif.
SdNOG-5 Volunteers
Thank you for your help and support, in organising the SdNOG event. We know that there was a lot of work that needed to be completed, and you completed your part seamlessly, and without complaint. You're an invaluable part of the SdNOG community, and we could not survive without you. Thank you!
Abdalmoneim Ahmed Abdosh
Ahmed Hassan
Ahmed Tajelsir Atyya
Haifa Alkhaier
Hiba Abbas
Hiba Alamin Mohamd
Hiba Osman
Khadiga Omer
Khansaa Abdallah
Manhal Mohamed
Marwa Osman
Mohamed Alkhatim Alfadni
Mohamed Nour
Mohand Altyiab Suna
Mutaz Bashier
Omer Ibrahim
Rammah Adawi
Saja Azhari
Saleh Shihab Eldeen
Salma Alamin Mohamed
Sara Alamin Mohamed
Sara Bashier
Tairg Fatih Alrahman
SdNOG-5 Preparations
This SdNOG-5 Preparations page contains the steps and tasks that has been done to organise the meeting.