PCH
Jump to navigation
Jump to search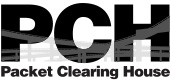 Packet Clearing House is a non-profit research institute that supports operations and analysis in the areas of Internet traffic exchange, routing economics, and global network development. Originally formed in 1994 to provide efficient regional and local network interconnection alternatives for the west coast of the United States, PCH has since grown to become the leading proponent of neutral independent network interconnection and provider of route-servers at major Internet exchange points worldwide.
Today, PCH provides equipment, training, data, and operational support to organizations and individual researchers seeking to improve the quality, robustness, and accessibility of the Internet. Current and ongoing PCH projects include the construction of Internet Exchanges Points (IXPs) throughout the developing world; operation of the INOC-DBA global Internet infrastructure protection hotline; support for globally distributed domain name system (DNS) resources; implementation of network research data collection initiatives in more than a hundred locations globally; and the development and presentation of educational materials to foster a better understanding of Internet architectural principles and their policy implications among policy makers, technologists, and the general public.
PCH has been involved as an in-kind sponsor, and supporting organisation of SdNOG since inception.