BGP Resource Management Workshop
Jump to navigation
Jump to search
The IRR system is a global databases where network operators publish their routing policies and announcements in order for other interested network operators to use that data, for ease of interconnecting and working together. In this workshop we will discuss in details the IRR system and to use it to manage your resources. Attendees will learn how to use common automation techniques to use the IRR easily and efficiently to perform network management.
Special Thanks To Our Sponsors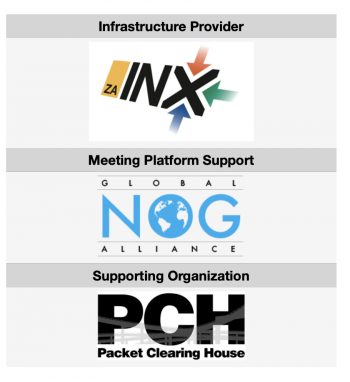 We Would like to Thanks our wonderful sponsors! without whom our workshop would not be possible:
Objectives
By the end of this workshop you will be able to :
Understand the Internet Routing Registry system
Understand the importance of Registering IRR Objects
Know how to confirm that your resources are accurately registered (and fix shortcomings)
Learn how to automate your network filtering.
Know what is RPKI and How to get a ROA
Workshop Level
Intermediate Level
Who should attend
Individuals involved in BGP, BGP network filtering.
Requirements
You should have some idea of how Internet peering and transit works
You should have conceptual BGP skills
You should know how to manipulate objects in a WHOIS database
Date & Time
Date: Sunday, 27 March 2022
Time: 08:00 - 11:00 UTC ( 10:00 - 13:00 Sudan Time)
Instructors
Alkhansaa Abdalla - IP Number Resource Analyst (AFRINIC)
Dibya Khatiwada - Global Peering Coordinator (Packet Clearing House)
Fees
Free :-)
Zoom Session Link
Sent by email.
Materials
You can download the slides from here
Reference
Some useful reading material